Luiss University and Ferragamo Hotels: two new INWIT partners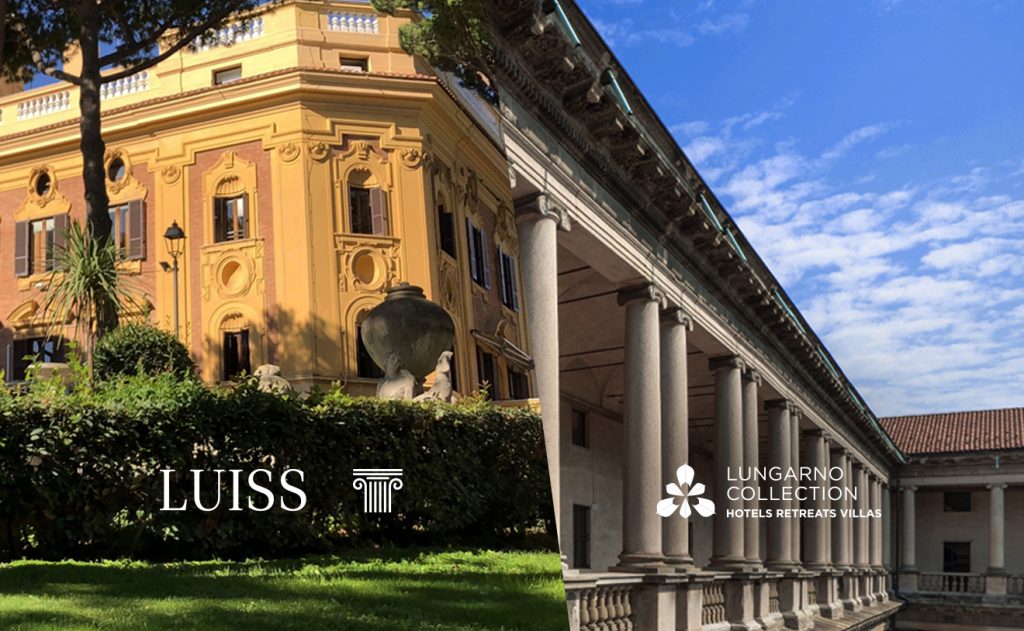 The roman university to cover main campuses with DAS. Ferragamo to start with the luxurious Milanese location.
The roman university to cover main campuses with DAS. Ferragamo to start with the luxurious Milanese location.
INWIT is continuing to successfully realize Distributed Antenna Systems (DAS). Objective: to improve mobile phone reception in locations where reliable coverage has become essential.
Despite limitations imposed by the pandemic, INWIT signed two large agreements just before the summer break.
The first, with Luiss "Guido Carli" University, involves coverage by cutting-edge mobile signal transmission systems for the university's main campuses in Rome. The infrastructure will benefit the Political Science, Economics and Jurisprudence faculties and Master programs housed in the Viale Pola and Villa Blanc campuses.
The second agreement INWIT signed was with Lungarno Collection. Controlled by the Ferragamo family, the company is a top-shelf player in the luxury hotel sector. The first structure of the chain to reap the benefits of INWIT's technology will be the new Portrait Milano hotel, which is scheduled to be inaugurated at the end of 2021.
Both agreements demonstrate businesses' and institutions' increasing awareness of DAS technology, as it guarantees optimal service on all mobile devices, even indoors, with current technologies and the up-and-coming 5G. INWIT's technology provides top performance even in crowded places with myriad devices connected.
As for Luiss University, INWIT is to install DAS infrastructure in the university's four campuses (Viale Pola, Viale Romania, Via Parenzo and Villa Blanc). The small antennae installed will have excellent reception from various telecom operators, which will significantly improve signal stability and support increased use of mobile services by students and teachers on campus.
Thanks to this operation, the Internet connection in enclosed spaces will be notably enhanced. Classrooms, cafeterias and labs will enjoy an excellent mobile network without any invasive changes. In fact, the visual and electromagnetic impact of DAS is negligible. In anticipation of students returning to school, in-person activities on campus as well as administrative tasks can be done quickly and easily even when working with large files and heavy documents thanks to INWIT's infrastructure, which is already outfitted for the arrival of 5G.
The agreement with Luiss University also highlights INWIT's commitment to investing in the future by making state-of-the-art telecom technologies available to the leaders of tomorrow.
"In recent months our University has accelerated the process of digitising education, increasing interaction between students and professors thanks to synchronous lessons," stated the Managing Director of Luiss, Giovanni Lo Storto. "Digital learning will play a strategic role as part of our new educational model. Luiss will continue to invest in improving its technological infrastructure to ensure that its services are accessible and a super-fast navigation experience to all members of our community, thanks to a player with unquestionable value like INWIT."
"I am proud of the partnership signed with Luiss University and I am sure that the experience of INWIT, which has innovation in its DNA, will allow the university to set up a connection network enabling it to develop increasingly high-performance services for its students," stated the CEO of INWIT, Giovanni Ferigo. "I believe that it will be possible to develop services for ever-more interactive teaching capable of giving the country's future leaders the best training".
The agreement with Lungarno Collection also calls for the installation of DAS micro-antennae in the Milanese hotel, where guests can surf high-speed Internet without ever losing the signal in enclosed spaces.
The hotel won't be the only one to benefit from this agreement. The adjacent pole of luxury in the area around the ex-Archiepiscopal Seminary of Milan in Corso Venezia will also be able to take advantage of the technology INWIT installs.
INWIT's collaboration with Lungarno Collection is an example of synergy between two leading sectors of the Italian economy: tourism and tech development; two sectors that are getting ready to come back strong after the pandemic slump.
According to Valeriano Antonioli, CEO of the Lungarno Collection Group, "today, time is the biggest luxury. Optimising our time when travelling is essential, and technology is our best ally. This is why when designing this new destination in the heart of the Milanese quadrilateral area, which will dictate trends in many areas, we naturally started thinking about offering all our guests a technology capable of ensuring speed and efficiency in data transfers, in addition to giving them the possibility of easy access to all their digital content (music, photos, movies and more) just as if they were at home," stated Antonioli. "INWIT represents luxury technology, which in our hotels transforms into the luxury of technology. With this choice, Portrait is a perfect combination of the Human Touch and Innovation, which Portrait is always reaching for to anticipate the desires of its guests".

"This first agreement to create DAS systems at Portrait Milano and in the new luxury hub by the Lungarno Collection represents an important step for INWIT on the road to the development of wireless telecommunications infrastructure," pointed out Giovanni Ferigo. "In addition to being the leading Italian infrastructure operator with over 22 thousand towers transmitting the wireless signal of all national operators, we are committed to creating a new infrastructural network based on micro-antennas that will supplement traditional sites to allow the optimal development of 5G technology and all the services and applications it will support, with enormous benefits for the economy and for people's social lives. The fact that a group like this has shared this new project confirms the integrity of our business from which the whole country can benefit."
The use of INWIT's digital innovation and expertise has already proved to be a success story, as various hospitals all over Italy have already signed agreements with Italy's most important telecom and wireless infrastructure company to make transmitting data faster and more efficient for doctors and patients.