Smarter towers and antennae in INWIT's future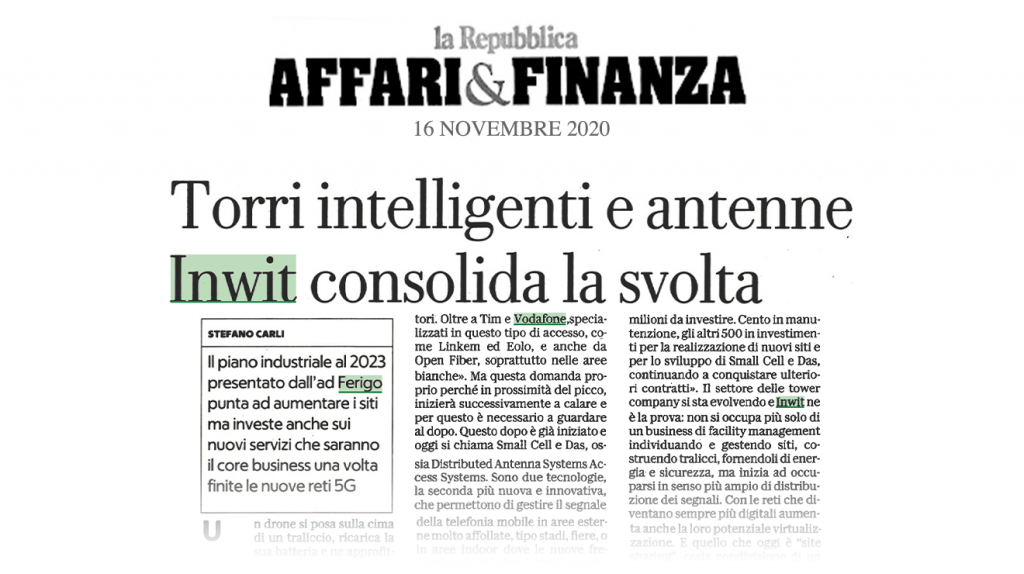 In an article in Affari & Finanza, Ferigo explains the new Business Plan.
In an article in Affari & Finanza, Ferigo explains the new Business Plan
Our CEO Giovanni Ferigo, in an article written by Stefano Carli for Affari & Finanza – the economics insert of the La Repubblica newspaper – outlined INWIT's future development in light of the new Business Plan recently approved by the company's Board of Directors.
This prospective long-term future sees, among other innovations, towers being transformed into takeoff and landing pads for drones. This application is under development, although it is not yet one of the objectives in the three-year business plan that CEO Giovanni Ferigo recently presented to the market.
The plan sees the next three years in a very positive light, with average annual growth around 8% in revenues and margins, and also starts to lay the foundations for the following period. "The next few years will see increased demand from telcos for new wireless networks," explained Ferigo. "Not just 5G, but also for FWA, radio access in the last mile, where we are seeing a growing demand from all operators. In addition TIM and Vodafone, specialized in this kind of access, like Linkem and Eolo, also Open Fiber, especially in white areas."
But this demand exists precisely because the peak is near – it will then start to decline, so we need to think about what happens after that. This "after" has already started, and is represented by Small Cell and DAS (Distributed Antenna Systems). These two technologies, the second newer and more innovative, allow us to manage mobile signal in very crowded outdoor areas, like stadiums, fairs, or in indoor areas where the new low-latency frequencies are unable to enter. INWIT's plan is therefore to turn to increasingly smart towers.
The company is now in a stage of evolution. With the arrival of Vodafone assets, the "old" INWIT with only TIM has basically doubled. It took months of adjustment to calibrate to these new requirements. On a like-for-like basis, revenues from the third quarter rose by 2% from the previous year and 1% from the second quarter. With the first full year of the new management still open, 2020 revenues are estimated pro forma at 750 million, but next year's 790 are already in view. The EBITDA margin remains, in forecasts, at 91%. Debts are nominally high, at 3.8 billion, but down from the 4 billion of the second quarter.
For an infrastructure company like us," explained Ferigo, "the market benchmark is 6 times EBITDA, and we are at 5.5, with the goal of getting to 4.6 at the plan's conclusion. And we have strong cash generation, enough to finance shareholder remuneration with 900 million in three years, and 600 million more to invest. A hundred in maintenance, the remaining 500 in investments to construct new sites and for the development of Small Cell and DAS, continuing to sign more contracts.
The tower company sector is evolving and INWIT is proof of this: it no longer deals merely with facility management by identifying and managing sites, building pylons, and providing them with energy and safety, but is starting to deal with signal distribution in a broader sense.
Our Small Cell and DAS," continued Ferigo, "are now found in hotels, like the Bristol Bernini in Rome and those of the Ferragamo group, in Udine's stadium, in universities like LUISS in Rome and Federico II in Naples, at the MAXXI Museum in Rome, in main railway stations, in the 'towers' of Milan and in many hospitals. So much so that the group, from being single-client, has had to create a sales network. At the plan's conclusion there will be a 'little treasure' of approximately a billion euros to finance further growth, and maybe we'll start to think about expanding outside of Italy.