The TourFOR5G stops in L'Aquila: event details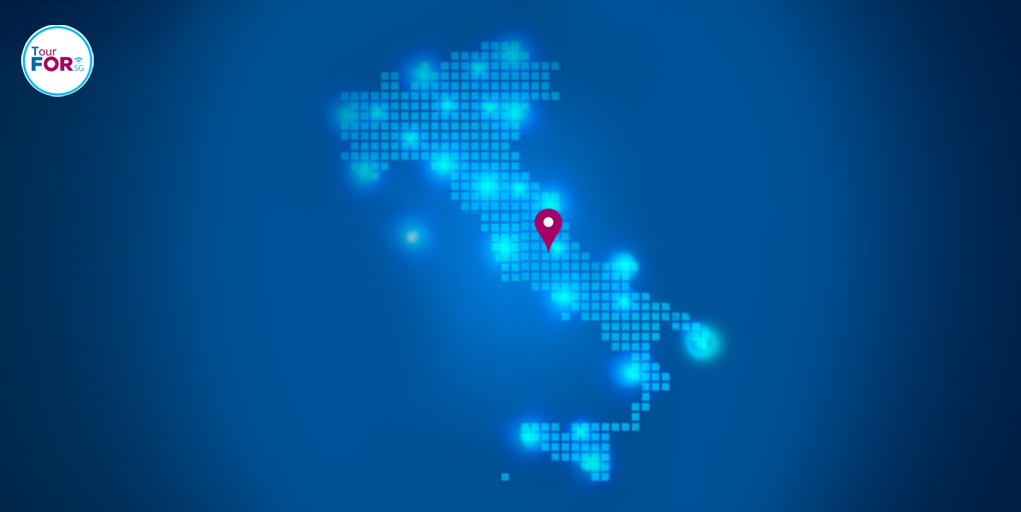 Telling the potential of digital and shared infrastructures and the fifth generation of mobile telecommunications: TourFOR5G, the travelling exhibition by INWIT and Fondazione Ottimisti&Razionali has arrived in Abruzzo, in L'Aquila, after stops in Naples, Rome, Florence, Genoa, Catanzaro and Bari.

The new appointment, titled "Digital Innovation and Territorial Growth", was held on Monday, 20 November, at 11 a.m. in Palazzo Fibbioni. It was a valuable opportunity to discuss the potential of 5G and mobile telecommunication towers, in the perspective of the technological and economic development of the country and, in particular, of the territories of L'Aquila and Abruzzo.

Top-notch guests from the institutional and business world attended the event:

• Antonella Ballone, President Chamber of Commerce of Gran Sasso d'Italia
• Pierluigi Biondi, Mayor of L'Aquila
• Michele Fina, Member of the 8th Commission – Senate of the Republic
• Eleonora Laurini, President – ANCE Giovani L'Aquila
• Guido Quintini Liris, Member of the 5th Commission – Senate of the Republic
• Etelwardo Sigismondi, Member of the 8th Commission – Senate of the Republic
• Michelangelo Suigo, Director External Relations Communication and Sustainability, INWIT.

The moderator was Claudio Velardi, President Fondazione Ottimisti&Razionali
The TourFOR5G aims to explore the potential of 5G and digital infrastructures, highlighting its centrality in the development of territories, also in the perspective of the full implementation of the National Recovery and Resilience Plan (PNRR), through numbers, concrete data and innovation experts.
TourFor5G stop in L'Aquila featured in a TgR Abruzzo report
To mark the event, the Abruzzo edition of the RAI regional TV news dedicated an in-depth report to the L'Aquila stop of the TourFor5G titled "The Future of Digital Communication".
"The VR headset shows four different scenarios of the telecommunications tower, shared and digital, which allows not only to digitise the territory, carrying the 5G and FWA signal of the telco operators, but also to carry out, through IoT sensors, gateways and smart cameras, the monitoring of air pollution and forest fires in national parks. We are doing this in the national park of Abruzzo, Lazio, Molise, in the Maiella Park and in two other nature reserves," explained Michelangelo Suigo, Director of External Relations Communication and Sustainability at INWIT, presenting the virtual reality project of the digital tower.
Watch the full report here.

Rewatch the event on our website!
(If you do not see the video below, click here).