Digital infrastructure for Italy's sustainable growth: here's INWIT's Stakeholder Forum 2023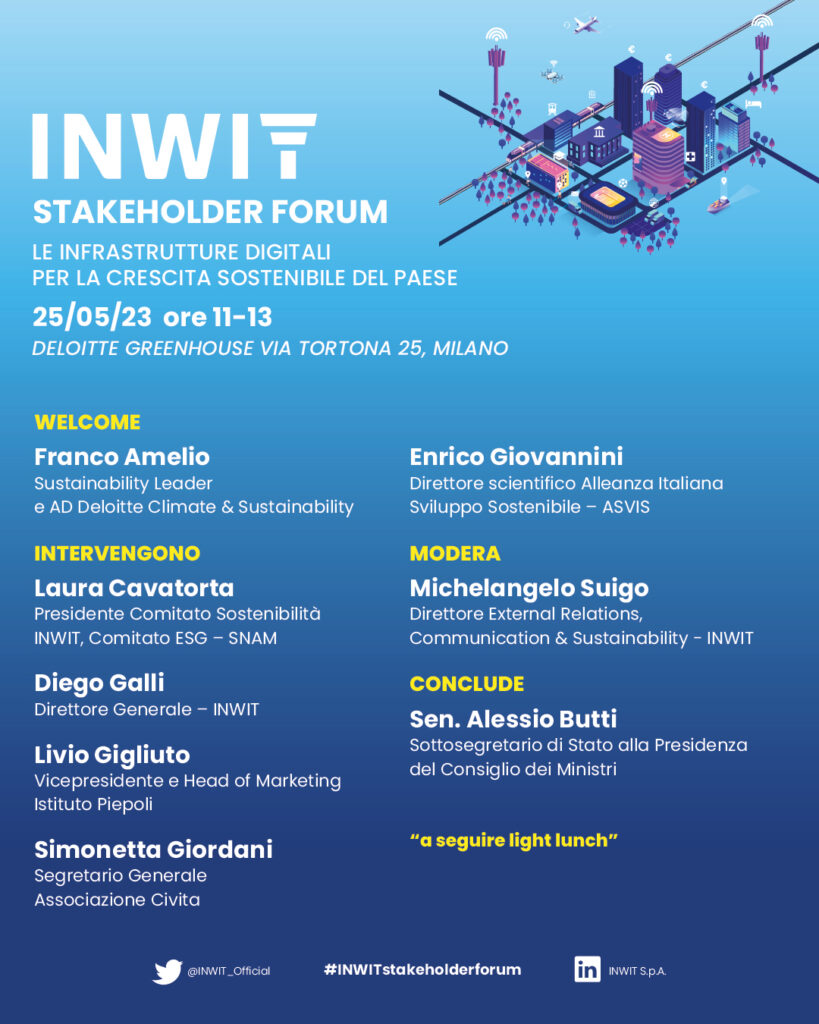 The core event in INWIT's stakeholder engagement activities for responsible, sustainable and transparent governance by actively engaging its stakeholders is back.
INWIT's third Stakeholder Forum, "Digital Infrastructure for the Sustainable Growth of the Country," will be taking place on Thursday, May 25, 2023, from 11:00 am to 1:00 pm.
The event, which will take place at the Deloitte Greenhouse auditorium in Milan, Via Tortona 25, will be attended by Laura Cavatorta, Chairman of INWIT Sustainability Committee and SNAM ESG Committee, Diego Galli, INWIT General Manager, Livio Gigliuto, Vice President and Head of Marketing Istituto Piepoli, Simonetta Giordani, Secretary General Civita Association, Enrico Giovannini, Scientific Director Italian Sustainable Development Alliance – ASVIS and will be concluded by Sen. Alessio Butti, Undersecretary of State to the Presidency of the Council with responsibility for technological innovation and digital transition and will be moderated by Michelangelo Suigo, Director of External Relations, Communication and Sustainability of INWIT.
Franco Amelio, Sustainability Leader and CEO Deloitte Climate & Sustainability, will bring an introductory greeting.

The Forum, one of the pillars of INWIT's stakeholder engagement activities, represents an opportunity to share strategies, objectives, and results, driven by the awareness that stakeholder relationships are an integral part of responsible and sustainable business management. The goal is to encourage and promote greater transparency, mutual understanding, trust, and cooperation. Therefore, to facilitate dialogue, consultation, and active participation of the parties on issues that concern them, to share different perspectives, examine viewpoints, and seek solutions that take into account the needs and concerns of all involved parties.
In recent years, our company has committed to launching a series of initiatives aimed at including stakeholder expectations in decision-making processes, such as adopting a dedicated Stakeholder Engagement Management policy or, as in the case of the annual update of the materiality analysis, identifying the relevant topics for INWIT and its stakeholders through impact analysis. Furthermore, to increase transparency towards stakeholders and provide them with a complete view of the strategy, operational model, and governance, integrating financial and non-financial information, starting from 2021, INWIT publishes an Integrated Report, which includes the Non-Financial Statement (NFS), in compliance with the Legislative Decree 254/2016, voluntarily prepared by INWIT. It is possible to attend the meeting in person, with registration at this link, or live streaming here.
(If you don't see the video below, click here).