TheFOR5G Tour landed in Catanzaro: all the details of the event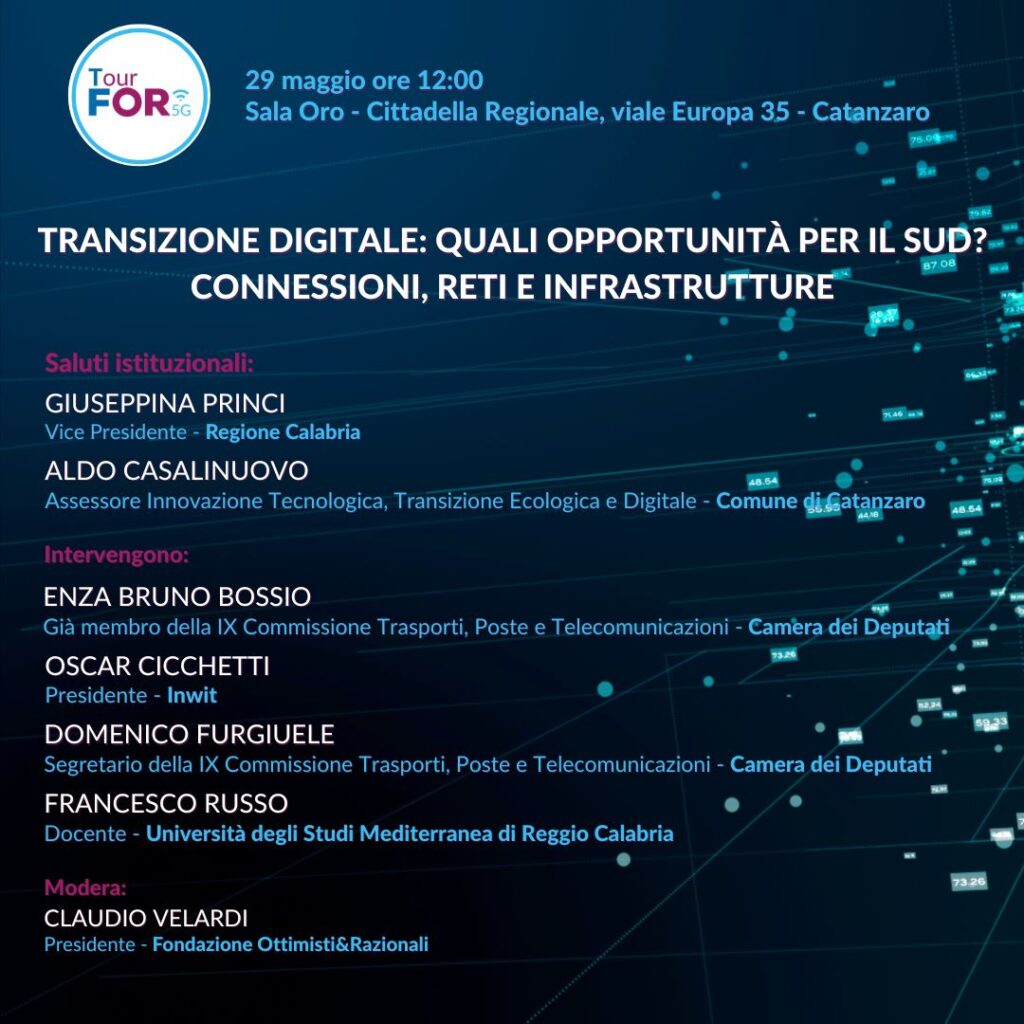 The fifth stop of the TourFOR5G, that took place in the Calabria Region, in Catanzaro, has ended. The travelling event organised by Fondazione Ottimisti&Razionali in collaboration with INWIT has in fact arrived in Calabria on Monday 29 May. The meeting, that took place at 12 noon at the Cittadella Regionale in Catanzaro, was the fifth stop on the TOUR after Naples, Rome, Florence and Genoa. The event, titled "Digital Transition: What Opportunities for the South? Connecting networks and infrastructures", has been an opportunity for an in-depth discussion on technological and digital development not only for the city of Catanzaro, but also for the entire Region of Calabria.
Authoritative institutional, academic and business guests attended:
Giuseppina Princi, Vice-President of Regione Calabria;
Oscar Cicchetti, Chairman of INWIT;
Claudio Velardi, president of the Ottimisti&Razionali foundation;
Alfredo Antoniozzi, Member of the X Commission for Productive Activities, Chamber of Deputies;
Enza Bruno Bossio, Digital innovation expert;
Nicola Fiorita, Mayor of Catanzaro;
Domenico Furgiuele, Secretary of the IX Transport Commission, Chamber of Deputies;
Nicola Irto, Member of the 8th Environment Commission, Senate of the Republic;
Filippo Pietropaolo, Councillor for Digital Transition, Calabria Region;
Francesco Russo, Professor at the Università degli Studi Mediterranea di Reggio Calabria.
"INWIT is at Calabria's side to create together a new digital ecosystem, resilient, innovative and socially shared, capable of adding value to the city in all its forms", said Oscar Cicchetti, President of INWIT. "Our commitment is to promote equity of opportunity through technology. In Calabria, we will build more than 250 mobile telecommunications infrastructures, 68 of which fall under the PNRR's Italy 5G Plan, which will promote the development of cutting-edge technology even in the most disadvantaged areas with market failures", he said.
The TourFOR5G aims to illustrate the potential of 5G and, through a constructive dialogue between different local realities, to highlight its importance for economic and social development. This initiative also wants to be a tool to fight the false informations that are feeding the network, through use cases and authoritative voices. The aim is to make a contribution to the still too poor digital education of a large part of the local population, in order to create more awareness on the subject among local communities.
If you missed the event, catch up on our website.
(If you don't see the video below, click here).